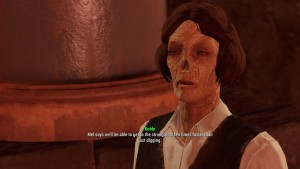 We've been playing Fallout 4 on the PlayStation 4 since its release on November 10th (you can follow our playthrough diary at our sister site, DepressedPress.com). We celebrated its new, more aggressive ghouls a few days later on November 15th. But what about the many interesting ghouls that don't want to immediately chew your face off? This series is for them!
Minor spoilers ahead!
Bobbi No-nose (an odd name as none of the ghouls have noses) is an abrasive, joyless schemer who lies often and loudly. She's truly a terrible person that drags you into an amazingly impracticable plot that almost gets you killed. On the plus side… there is no plus side.
This is the
148th
Zombie of the Week
; that's nearly three years of zombies! We are desperately running out of ideas! Please
contact us
with suggestions!