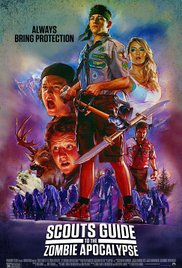 "Scouts Guide to the Zombie Apocalypse" on IMDB
Horror/Comedy – 2015 – 93 Minutes
We must admit, despite all sense, we were actually excited for this movie when it was announced. The premise was promising: how would a troop of scouts – and be clear: not trademarked and copyright protected "Boy Scouts", just "scouts" – handle the zombie apocalypse? How would these legendarily prepared youths fare against the truly unexpected?
We never find out. The "troop" in this film is made up exactly three kids, all in their late teens. The characters are poster-board thin and they fall into their slots easily and without complaint. We have the everyman, Ben (Tye Sheridan), who pines for a girl, makes the best peace among his friends and always does the right thing. We have the fool, Carter (Logan Miller), who's more interested in sex than woodcraft and screams every damn line. Both of them are still in scouts to spare the feelings of Augie (Joey Morgan), the overweight doofus, who hides untapped strength under his lovable naivete.
They have planned their last camping trip together to coincide both with the massive, but secret, senior rave that Carter and Ben are desperate to attend and the zombie plague that an inept janitor releases in a horrifically unfunny, drawn out sequence. When they discover the zombie problem, they join forces with Denise (Sarah Dumont), a cocktail waitress at the strip club that Carter insists they seek shelter in. Together, the group becomes determined to discover the location of the rave and warn their classmates.
The movie does as little as possible with its main premise. Ben whittles a spear at one point and Augie, in a cliche-ridden climax, redeems himself by starting a fire. The rest is a trite teen romp lightly drizzled in blood. It was promising to see a rated "R" zombie movie, for once, but it resulted in was gratuitous zombie nudity and an extended, graphic dick joke that stopped being funny long before it ended.
Furthermore, the movie commits the sin of pretending that having a single "strong" female character means its not sexist as hell. It is. Denise is a strong woman, and Dumont's performance is as good as the material will allow. She also spends the entire film in a tank top and short-shorts and is forced to do and say ridiculous things in service of a half-assed frat mentality. The few other female characters are there to be nude or, at best, rescued.
The movie wasted, then ignored, its premise and its rating. There were a few – very few – laughs, but the few that worked initially were driven so heavily into the ground that they were ruined long before any kind of mood could be set. Zombie comedies are far from rare; you can and should avoid this one easily.