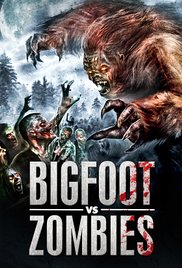 "Bigfoot vs. Zombies" on IMDB
Horror/Comedy – 2016 – 75 Minutes
This film was a selection for BEBE 2016.
We always try to start our Easter marathon with something less, um… let's say "intellectual". We've just woken up and are still bleary-eyed, the kids are grumpy and we're cobbling together a breakfast leftovers, dyed-eggs, pop-tarts and chocolate. Something that we don't have to pay the strictest attention too is generally best.
This definitely fits that bill.
Ed and Andy are delivering cadavers to a "body farm", where fresh corpses are left in natural, but controlled, conditions to benefit forensic science. The facility itself has a skeleton crew: there's a single (mad) scientist, a cute peer/assistant/receptionist/something, the dumbass handyman and the slimy security guard. Oh yeah, there's Bigfoot too. Bigfoot's in this. He's short, weird and looks like he's covered in partially skinned dogs, but he's Big "B" Bigfoot, dammit!
The (mad) scientist has been soaking the bodies with something designed to make them… something, and now they're zombies. Really crappy ones. There's just no effort made. The zombies are people with loose-fitting masks and what appear to be wigs stolen from old women. At one point the script calls for our heroes to bribe the slimy security guard with pornography. They stacked a bunch of copy paper together and – quite literally – printed out the words "Jugs and Thugz" in black and white. Mormon children could make a more convincing prop.
There's a fine line between "fun no budget" and "sad no budget" and this shambles around it, but lands definitively on the "sad" side of the line. It's slow and sloppy and Bigfoot is a complete non-starter. There's no joy here at all.