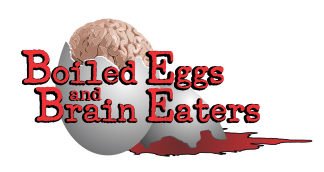 Alas, BEBE 2018, our ninth year, is over! Nine glorious years of chicken ova and grey matter!
Let's see how we did according to the rules of Boiled Eggs and Brain Eaters:
Watch Some Zombie Movies
Check!  The selections were mostly retrospective this year.  We'll be doing full reviews of all of these in the coming weeks:
It Stains the Sands Red: A showgirl from Las Vegas alone in the dessert being trailed by a relentless zombie. A well-done and surprisingly gripping take on the genre!
Dawn of the Dead [1978]: It took George Romero a decade to produce this follow-up to the seminal Night of the Living Dead. While much of it hasn't aged particularly well, the underlying metaphor of runaway consumerism as a metaphor for a zombie plague is still as powerful as ever.
Dawn of the Dead [2004]: As both a remake of a movie that didn't need to be remade and Zack Synder's feature debut, this movie has no right to be so damn good!
Shaun of the Dead: Still perfect! Still so damn perfect!
An above average year, all told!
Eat Lots of Good Food
Check! Too much Platter's Chocolate and, as we've done since 2015, Crafty Zombie Cupcakes. We also did zombie sugar cookies and, for the first time, tried Hot Dog zombie fingers. These… didn't turn out remarkably impressive, but tasted pretty good!  Dinner was the welcome usual of ham, smooshed taters and fried corn.
Play Some Games
Check, but barely! A few rounds of Zombie Dice was all we were able to get in!
Spend Some Time with Those You Love
Check! As the kids are older now, these are becoming nice and smooth with more actual conversation and less argument and drama. The weather worked out, so the doors were open and a nice spring breeze permeated the day.
We hope that you had a great day with those you love and were able to fit in a little fun and games.  We also hope to see you back here in 2019 for the the tenth anniversary of Boiled Eggs and Brain Eaters!