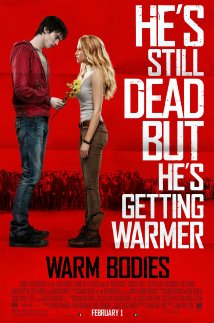 "Warm Bodies" on IMDB
Comedy/Horror –  2013 – 98 Minutes
This may be the first big-budget entry into the growing collection of zom-rom-coms.  This may also be the most pure example of the sub-genre.  While films like "A Little Bit Zombie" [Our Review] or "Fido" [Our Review] have certain elements, their focus lies elsewhere; this one is all about the "rom".
The basic story is a very loose – very loose –  interpretation of "Romeo and Juliet" (there's even a balcony scene).  "R" (he can't remember that rest of his name) is a singular Zombie.  He's introspective, inquisitive and longs for something more.  When he sees Julie, a part of a scavenger squad from the walled city nearby, he's instantly smitten.  Luckily, he's just killed her boyfriend and eaten his brains (which, of course, gives him all the memories that those brains had) so he even knows a little bit about her.
The zombies in this movie just barely meet the definition.  They mill about well-enough but the script needs them to be approachable so they're far from scary.  They have only the rudimentary make-up and generally have expressive faces and clear skin.  They talk (sort of) and have relationships (sort of).  The exception are the villainous "Bonies", zombies that have given up, stripped the flesh from their bones (which somehow makes them faster and stronger) and will now attack anything.
R and Julie (get it?!) spend a fun, montage-fueled few days together.  When Julie tries to get back home R convinces his fellow corpses to let her go.  This awakens something in them.  They find themselves remembering their previous lives, their speech improves and they even begin to dream again.  The bonies don't like this.
The movie is more "romantic" than "zombie" by any measure.  It's just as predictable and simplistic as any other rom-com and just as annoying in the particulars.  The resolution is totally sappy and heavy-handed as hell but in the context it works perfectly.   I suppose the simplest way to frame this is to say that if you like rom-coms then you'll really like this.  If, like me, you're not so hot on them but do like zombies… well, it's passable I guess.