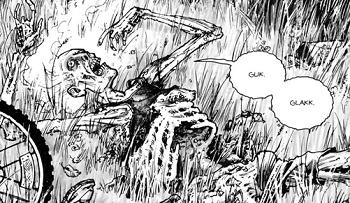 We enjoyed our first comparison of zombies from Walking Dead: the Comic to Walking Dead: the TV Show so much that we're going to make something of habit of it for the next few weeks. Or until we get bored. (Besides, after more than a year, it's getting really difficult coming up with a clever zombie every week.)

Here we see the first seriously decomposed zombie that Rick ever sees from the very first issue of  "The Walking Dead", from October 2003, written by Robert Kirkman and drawn by Tony Moore. He,or maybe she – it's hard to tell – introduces himself as "GUK GLAKK". GUK has a short, one-sided conversation with Rick before the former cop steals his bicycle and rides away.
GUK would spend the next week or so wondering what he said that made the nice man ignore him and take his bike. He would lie eternally awake day and night running through the encounter over and over in his maggoty memory. Should he have really started the conversation with "GUH"? Was that too needy; too soon? And following it up with "GAR" – really what was he thinking?!
He worried over the entire exchange endlessly. That is, of course, until Rick stopped by on his way out of town and put a bullet through GUK's head.