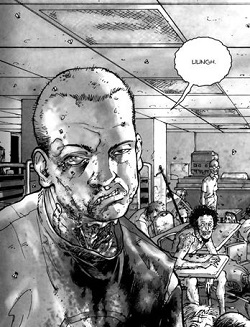 The fourth season of "The Walking Dead" was amazing. Thrills, chills, spills and all of the character development that a greedy fat-man like me could hope for. As we hunker down to wait for the beginning of season five, it seemed natural to pay homage to the very first zombie the very first Rick ever laid eyes on.
After being gut-shot by an escaped convict our hero, Rick Grimes, wakes up confused and alone in a hospital bed. He has no idea how long he's been out but finally drags himself out of bed, dresses and tentatively strikes out to explore. Finding nobody and coming upon a mauled corpse does little to ease his mind. Coming finally the cafeteria he finds it boarded closed from the outside. Doing what nobody should ever, ever, do he removes the obstacle and goes inside.
That's when he meets UUNGH and several dozen of his closest friends.
UUNGH, as seen in this panel, introduces himself. He then attempts to educate Rick regarding the new, "you're food" rules of etiquette, but finds him a less than attentive pupil. After a brief discussion, one that ends with the accidental near decapitation of UUNGH, Rick decides to try his luck outside.
This comic, "The Walking Dead" issue number one, from October 2003, written by Robert Kirkman and drawn by Tony Moore, started the revolution and UUNGH was there to see it. For two-and-half pages, at least.