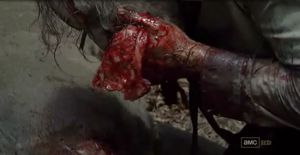 We continue our comparisons of Walking Dead: the Comic to Walking Dead: the TV Show. Bear with us.

In the comic version Rick and Shane come across a zombie eating a deer carcass and soberly discuss whether or not the meat would be any good should they take it. They decide not to risk it and stoically dispatch the zombie.
The TV version is a little more dramatic and combines several scenes from the comic with the introduction of eventual fan-favorite, Daryl Dixon. After hearing Carl screaming, Rick, Shane and several others run to his aid. They find our featured shambler gorging himself on sweet, sweet venison. The group starts beating him, ineffectively, in a graphic display of their inexperience. Dale finally delivers a decapitating blow with an ax.
Emerging from the bushes, Daryl spooks the group. He'd been tracking the wounded, and now wasted, deer. Like a force of nature he moves through the scene chattering incessantly. He finally chastises the group for leaving Deer Zombie's head alive as he puts a bolt through it. It's a near perfect introduction. In his initial 30 seconds on camera we see nearly facet of his character. He's gruff and tactless, but also concerned about the group and willing to listen. He's devoted to his brother. He's incredibly resourceful, but lacks social tools.
One of the reasons that Daryl has become so beloved is that his character has grown, but not changed, over the course of the show. Where other characters have has massive shifts in behavior and motivation, Daryl is a rock. Thank you, Deer Zombie, for introducing us to him!